Next year, Danish wind turbine manufacturer Vestas will put up a gargantuan prototype – a 15-megawatt (MW) wind turbine that will be powerful enough to provide electricity to roughly 13,000 British homes.
It will be the biggest such turbine in the world, though potentially not for long. Wind turbines just keep getting bigger – and it's happening faster than almost anybody predicted.
Chinese firm, MingYang, recently announced plans for an even more powerful device clocking in at 16MW, for example. Just four years ago, the maximum capacity of an offshore turbine was 8MW.
"It's happening quicker than we would wish, in a sense," says Aurélie Nasse, head of offshore product market strategy at Vestas. The firm is one of a handful that have led the development of super-sized turbines – but headaches associated with building ever larger machines are beginning to emerge.
"We need to make sure it's a sustainable race for everyone in the industry," says Ms Nasse, as she points out the need for larger harbours, and the necessary equipment and installation vessels required to bring today's huge turbine components offshore.
Then there's the hefty investments required to get to that point. "If you look at the financial results of the [manufacturers], basically none of us make money anymore," explains Ms Nasse. "That's a big risk."
Yet the wind industry's willingness to push limits is one of its greatest strengths, she adds. A double-edged sword, or turbine blade, if you will. And there are few signs that the race to 20MW turbines and beyond is about to slow down.
"It's just astonishing," says Guy Dorrell, a spokesman for Siemens Gamesa, referring to the fact that a single offshore wind farm can now power a million homes. By the end of this year, his firm plans to install an onshore prototype of a 14MW offshore turbine that can be boosted to supply 15MW.
"We've worked out that a single turn of a 14MW turbine would power a Tesla Model 3 for 352km (218 miles)," he says. Besides heightened power output, one of the advantages of bigger turbines is that they are more efficient in terms of installation time and cost – clearly, you only need one base structure and set of cables for a 14MW turbine versus two for a pair of 7MW machines.
The UK currently has about 10.5 gigawatts (GW) of offshore wind capacity and this is set to quadruple by 2030. But that still isn't enough to deliver net-zero electricity by 2035, according to researchers at Imperial College, London.
Whatever happens next the demand is there and you can bet that bigger turbines will become more commonplace, says Christoph Zipf, a spokesman for Wind Europe, an industry body.
Twenty years from now, 15MW turbines will be viewed as "average", he predicts.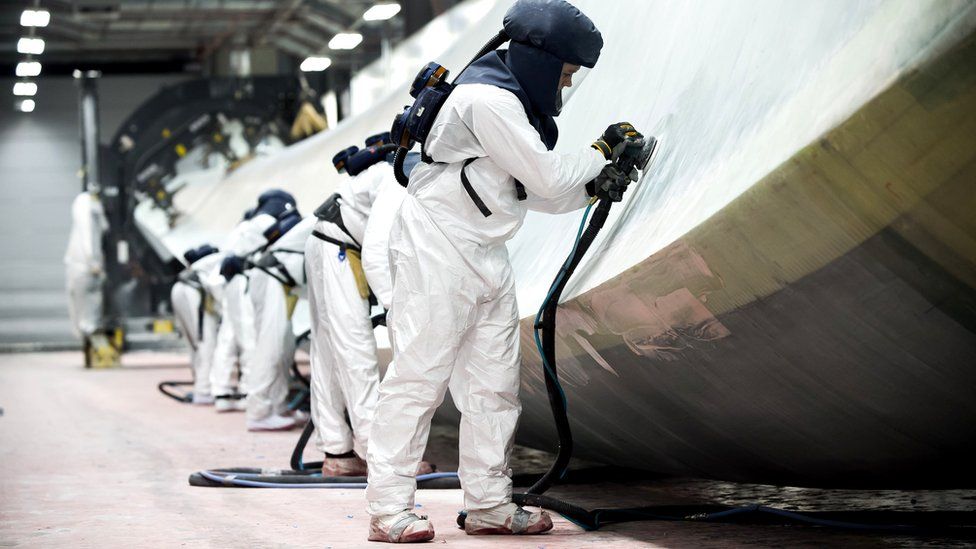 It may happen even sooner than that. The UK's newest offshore wind projects, planned for Dogger Bank in the middle of the North Sea, are already set to use 13 and 14MW turbines.
But surely there are limits to how large these structures can get? They are already mind-boggling. Each blade on Vestas' 15MW turbine is 115.5m (379ft) long – nearly as long as London's Centre Point tower is high. The turbine itself has a rotor diameter of 236m (London's tallest building, The Shard, is 310m tall).
"There has to be a physical limit although nobody has yet put a number on that," says Simon Hogg, at Durham University. Prof Hogg holds the Ørsted chair at the university, which is funded by energy firm Ørsted.
Instead, it's the practicalities of putting these machines in place and maintaining them that might first become problematic.
Prof Deborah Greaves at Plymouth University says of super-sized offshore turbines, "There are still open questions around the cumulative environmental impact and the capacity of the marine environment."
Wind turbines do have some negative effects on wildlife but the extent of this, at scale, is difficult to measure. Plus, very large wind farms at sea must be sited carefully to avoid conflict with shipping lanes.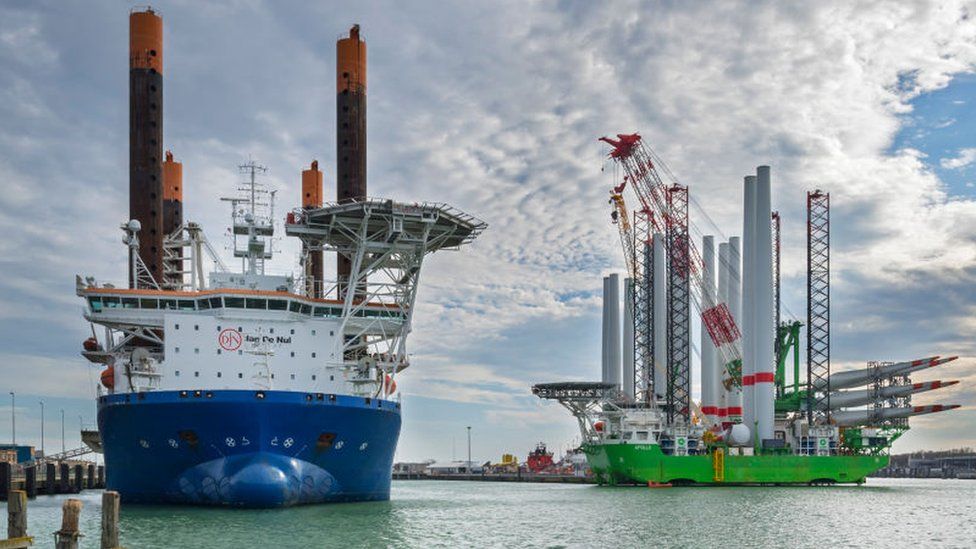 Prof Hogg adds that the cost of maintaining hundreds of very large turbines, miles offshore could go up over time. "Something like that, may be the defining driver as to how big offshore wind turbines can actually get," he says.
Then there are the technical niggles. The really big turbines tend to be positioned far away from land but that means the electricity they generate must travel huge distances.
When transmitted using alternating current (AC), some power ends up getting lost. Converting to direct current (DC) is much more efficient but using DC at very large scales requires significant advances in engineering, says Prof Hogg.
Plus, the tip of a very long turbine blade travels faster than the tip on shorter blades rotating at the same rate – given it has a longer distance to cover in the same amount of time.
However, current turbine designs have a maximum speed for the blade tip of around 90m/s, or 324km/h (201mph), says Prof Hogg, which has a "big effect on the overall aerodynamics of the blade."
He adds that blades are also twisted slightly near the tip to ensure good performance, although there is a limit on how much they can be twisted. That means there is a limit on a blade's size and speed of rotation.
In short, while building a wind turbine significantly bigger than today's giants may be possible from a manufacturing standpoint, it could be the practicalities and costs of installing, maintaining and operating them that really challenge their seemingly unstoppable growth in the future.
As Ms Nasse says, "We need to be a little careful of the pace."