The NHS Covid Pass, used to show a person's vaccine status for travel and events, stopped working on Wednesday.
The feature, contained in the NHS smartphone app, usually allows users to access a barcode or text records about which vaccine doses they have had.
Instead, users received error messages or a notice saying that high traffic volumes are "limiting access to the service".
Normal access to vaccine records was restored after more than three hours.
"The NHS Covid Pass service was temporarily unavailable between 11:45 and 15:15 today as a result of a technical issue with a global service provider that affected many different organisations," NHS Digital said in a statement.
Online, many travellers expressed concern that they might not be able to prove their vaccinated status at airports or other departure points without the app.
Some claimed they missed their flight because of the problem, while others reported being "stranded" at an airport unable to fly.
Journalist Caroline Frost was among those affected, tweeting that she was "kindly offered a later flight for £250 and an express PCR test at Heathrow for £119 – not happening."
Chuck Adolphy, a 24-year-old from Surrey, was at Gatwick Airport waiting to fly to Slovenia on holiday when he found the app was no longer working.
He told the BBC he tried to show staff working for EasyJet his paper vaccine card – which is not widely accepted a proof of vaccination – but that they were "having none of it".
He said he was turned away and missed his flight – and that EasyJet has refused to give him a refund.
Mr Adolphy said he did not know if the airline employees knew the outage was widespread at the time. But he described the situation as a "shambles".
He is now hoping to book a flight tomorrow instead.
EasyJet later said in a statement that it was "not aware of any significant impact" due to the outage, but was offering passengers who could not board a free transfer to an alternative flight.
It is possible to save an offline version of the Covid Pass, which remains valid for 30 days. Some users simply screenshot their barcode, and iPhone users can also save a version to their Apple Wallet.
But those methods needed to have been done before the system went down.
Other elements of the general-purpose NHS app, such as subscriptions, appeared to be working during the outage.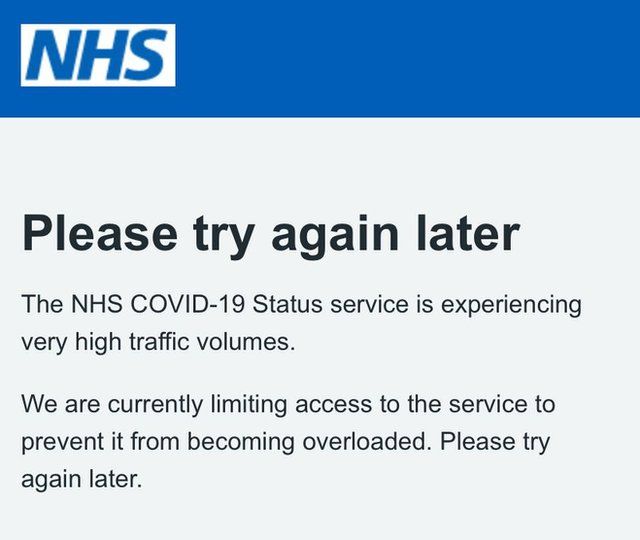 The Covid Pass is also required for entry to some events and locations in England, though that has become less common as restrictions have been relaxed at most entertainment venues.
The digital version is available for those over 16 years old who were vaccinated in England, Wales, or the Isle of Man.
A paper version of the pass is also available as a letter for fully-vaccinated people in England. The letter is sent to the address on file with a patient's local GP surgery, but can take up to five working days to arrive, the NHS says.
The vaccine record in the NHS app is separate to the NHS Covid-19 app, which was widely used earlier in the pandemic to estimate exposure to those who tested positive to the virus, and "pinged" many people with self-isolation alerts.